Mr. B and I have always followed the counsel to have extra food, water, and other essentials on hand for a rainy day or for unforeseen emergencies or natural disaster. It's natural for us to change a coat closet into an extra pantry. How often do we wear coats in Las Vegas? Our entryway doesn't even have a coat rack.
We have short-term food used in everyday cooking or baking.
We have freeze-dried food with a longer shelf life, intended to sit there and wait for an emergency.
This has been our MO for all our married life. Until 6 years ago.
Two different kinds of storage no longer made me feel peaceful. It wasn't getting rotated like it should. I questioned if I would really have what I needed and would I know how to use all the wheat and beans?
Would I find some holes during a 5-alarm wake up call? What do I know about dutch oven cooking? Mr. B is an expert, but I need to be one, too. Isn't it interesting how something walks into your life right when you need it?
The book,
I Dare You to Eat It,
came across my horizon. No, it isn't from the reality show Fear Factor. You won't need to dehydrate bugs or can up some worms. Unless you know something I don't.
Written with wit and wisdom, Liesa simplifies the combining and use of long-term and short-term food storage. Instead of buying, storing and tossing away expired items, she introduces a design of planning a 90-day supply of entree recipe ingredients based on 5 staples: wheat, beans, rice, potatoes, and pasta.
5 categories x 6 recipes each = 30 x 3 (months) = 90 days
Liesa offers recipes for each group - which are tried and true, company worthy. They include some fresh ingredients as well as stored items from your pantry.
There are so many choices now on this subject. This approach may just be what you need, too.
Where to begin? Simple, of course.
When available I prefer freeze-dried over dehydrated foods. We replaced MRE's in our 72-hr kits when I read more about them. There are a few stacked on our kitchen counter Mr. B wants to taste.
We have purchased our freeze-dried food from
Emergency Essentials
and once opened up a 25-yr old can to see if it was still "ok". I said, "You go first." It reconstituted just fine and tasted normal. No after effects. I said, "Ok, let's start rotating it." Mr. B's reply? "Umm . . . no, that's okay now that we know it is still good."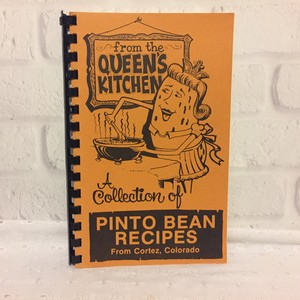 In my quest for know-how, I secured a different hard-to-get edition of this recipe collection. Who knew there was a competition for a Pinto Queen? Now I'm the queen of almost everything.
I keep at it. I hope you do to.